BlenderDMX Releases 1.0.1 with Featurfull MVR Import
Posted September 20, 2023 ‐ 2 min read ‐ Categories: GDTF, MVR, BlenderDMX
Version 1.0.1 of BlenderDMX addon has been released with much improved MVR import. This is not (yet) the big 2.0 rework, but rather a massive improvement to the 1.0 branch.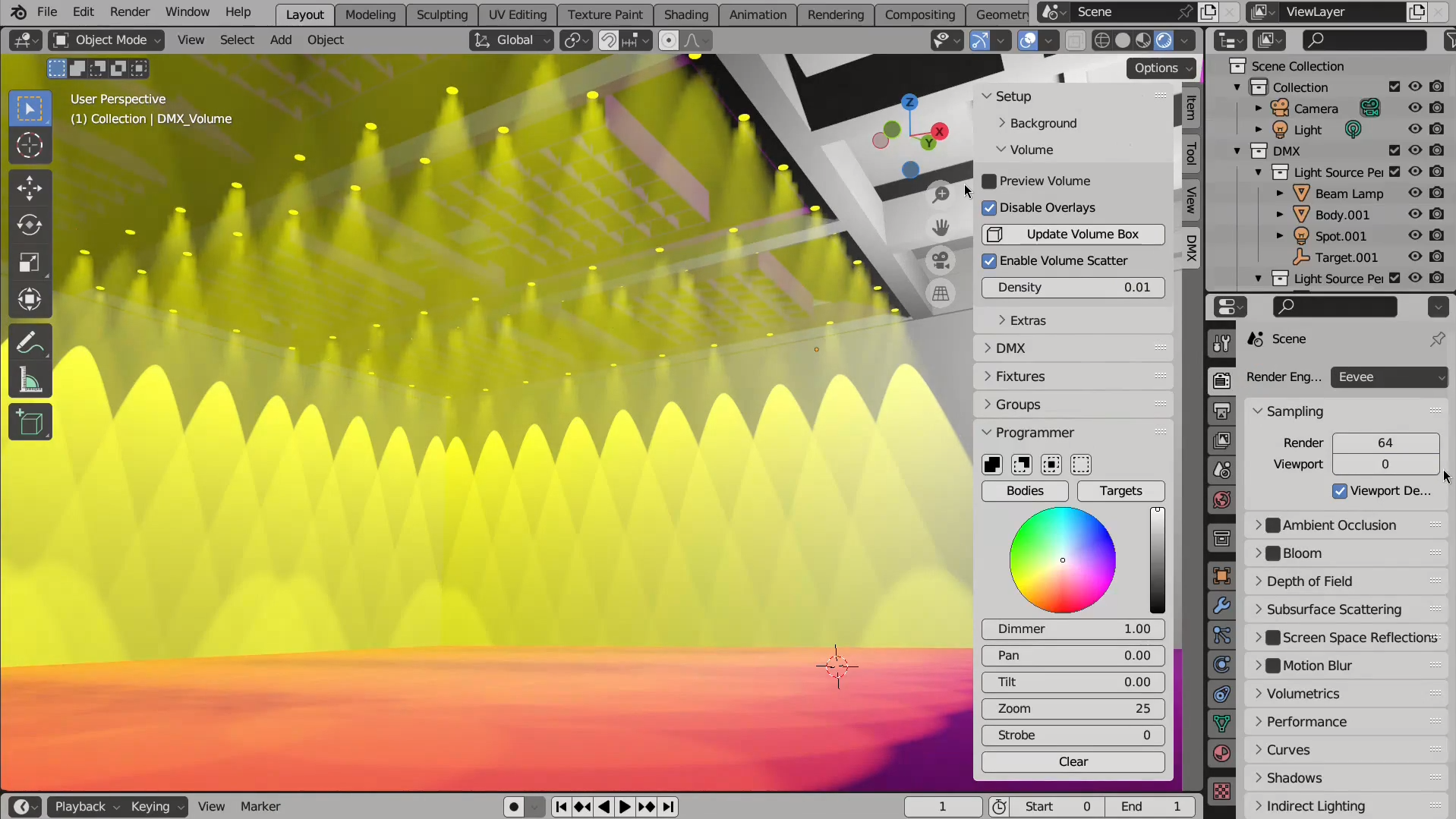 The popular BlenderDMX GDTF based addon for Blender has announced new version 1.0.1:
The main feature of this release is much improved MVR Import which now supports loading of complete scene, including Focus Points, Colors, Trusses and other scene objects. Fixes include handling volume box (loading and material), sACN receiving, Live DMX display and more.
This plugin seems to be fairly popular with over 120 GitHub stars and more then 4700 downloads:
Show download statistics

BlenderDMX downloads
Here is what's new:
🧊 MVR import has been much enhanced, allowing to import not only fixtures but also trusses and other 3D objects.

If a fixture has a focus point attached and a color specified (typically used on architectural fixtures or simple parcans), this is now imported and utilized.
The pymvr library was being further developed along the way and this implementation will help when adding MVR to the 2.0 development branch of BlenderDMX.

📁 Blender files saved under older version (0.5) of BlenderDMX are now updated to be usable with 1.0 via "migration" procedure.
🚥 sACN first byte issue has been fixed. Not many consoles use it, but the ETC EOS 3.2 does utilize it quite a bit.
🐛 other improvements and bugfixes
Video
Importing MVR with 3D elements into BlenderDMX:
Changelog:
Improved MVR import:

Import Focus Points and Fixture Color
Import Scene Objects
Import Trusses
Handle incomplete MVR files

Fix issues due to empty material
Enable camera selection
Improve logging
Fix Live DMX logic
Ignore packets with dmxStartCode set
Add support for migrations of older BlenderDMX file versions
Process deeper GeometryReference trees
Sources: BlenderDMX GitHub pages and Discord server.