GDTF Builder Release Summer 2023 Improvements
Posted July 10, 2023 ‐ 5 min read ‐ Categories: GDTF
New features, bug fixes and improvements to the GDTF Builder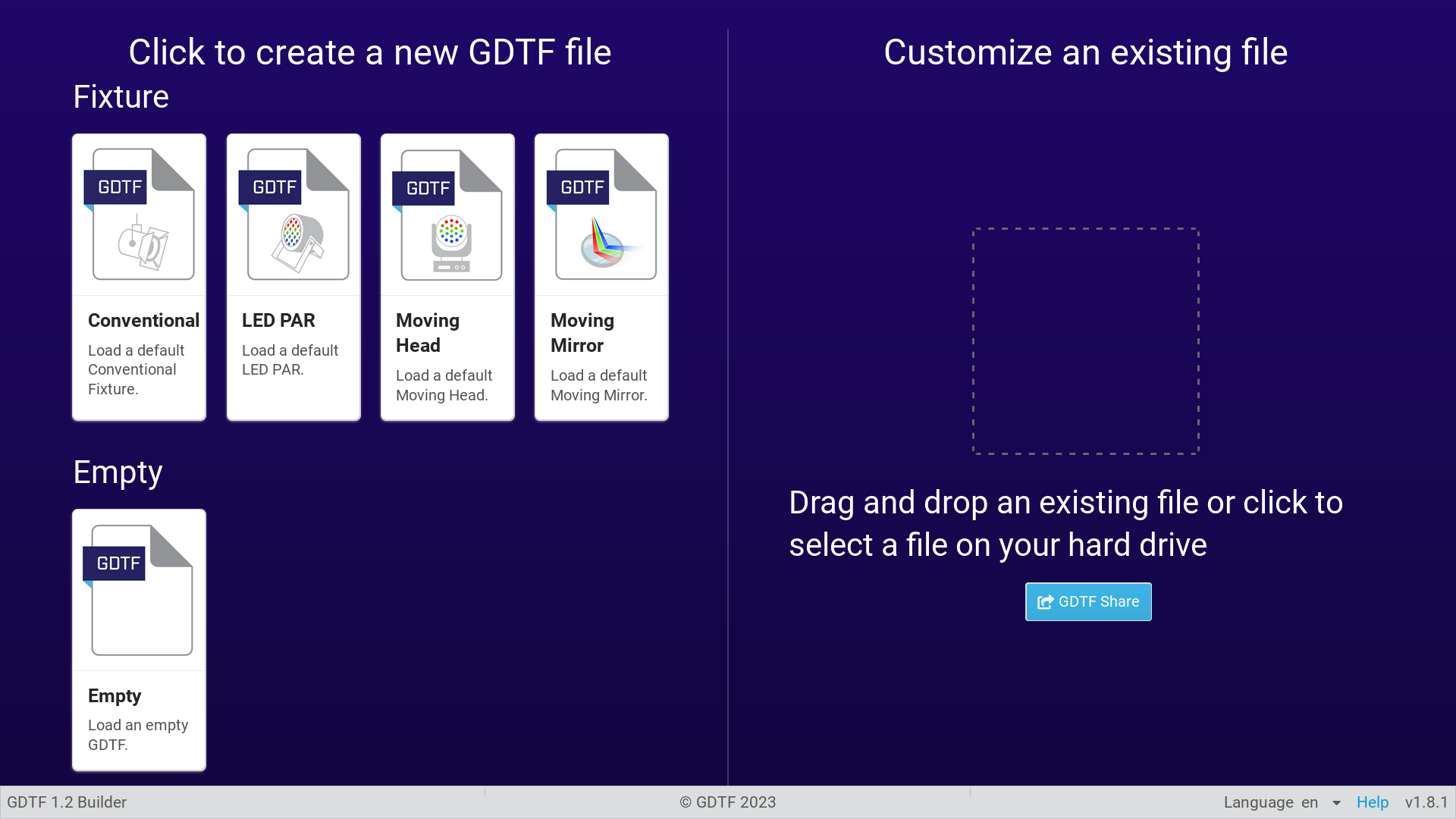 The editor to create and edit GDTF files - the GDTF Builder has received a big update and the list of changes and improvements is huge.
3D View Performance Improvement
The first thing to mention is the massive speedup of the 3D view of the Geometry tab. Before the update, each operation or each switch of a view in the Geometry tab would cause a full redraw of the 3D geometries window, which - in case of complex geometry trees - could take a significant amount of time. See this comparison of old (left side) and new (right side) behavior on the video below. Basically… the left view - the new behavior - is ready as soon as the 3D view is clicked, while the right side - the old way of rendering - keeps iterating through the elements of the Geometry tree:
Next new features are also related to geometries, both are available in the menu in the Geometry tree list:
Wiring objects insert tool
A new fast insertion tool for Wiring Geometries can generate predefined sets of typical connectors of a lighting device. There are three sets available - each inserts different list of predefined objects:
Group one: DMX XLR3 In and Out, DMX XLR5 In and Out, Network RJ45 and TRUE1.
Group two: DMX XLR3 In and Out and TRUE1.
Group three: DMX XLR5 In and Out and TRUE1.

After using the tool, one should check and edit these new Geometries and fill in details for example of the Power consumption data and so on.
Geometry duplication and arrangement tool
When creating for example LED panels, the Builder can now duplicate and arrange a selected geometry, to speed up creation of these arrays.




Complete list of changes
There are many other very useful additions and changes, like the ability to copy/paste wheels between files, displaying of default and high-light values in DMX Mode overview, better error handling and of course many bug fixes. There is also a new universal login which preserves the login state between the GDTF Share and the GDTF Builder. The complete list of changes posted in the GDTF Forum is very long, see it listed below verbatim:
New Features
Copy / Paste Wheels between different fixtures
Display user name in the title bar
Start using ModifiedBy in revisions to be able to see where an issue possibly comes from
Show Channel Highlight and Default values in DMX Mode overview
Geometry tree operations are now much faster
Add predefined Wiring Object types
Arrangement Wizard for Geometries
Improvements
Upload of large meshes does not give the user any feedback
The duplicate UUIDs error should give the user more guidance on how to resolve it
Add option to allow DMX count to continue from previous DMX Break range in the DMX Mode overview screen
Display RDM/SW in decimal
DMX Table in DMX Mode Overview should be multi line instead of heaving a scroll bar
Give more detailed information about the csv for spectral data
When starting "a new" device file from an "old" one, indicated this in revision history
Visually separate DMX modes, for example do a zebra table of DMX modes
Visually mark attributes without Pretty name
Duplicating DMX mode will paste channels with Initial channel function reset to first channel function
DMX Logical Channels can collapse
Add more detailed information to the edit prism facet dialog
The duplicate UUIDs error should give the user more guidance on how to resolve it
Display RDM/SW in decimal
Sorting dmx channels by coarse when channels have the same break
Bugfixes
Model: can not remove Low/High model glb and 3ds and svg top / front / side
Sort channels should consider break, rather then sorting 1 1 2 2 each after the other
If DMX Mode is missing link to a Geometry, Builder shows an error which cannot be found
No error is displayed if a gdtf is imported, that has two geometries with the same name
With multiple geometry trees, the builder doesn't highlight beam geometries of the second three
Geometry size is affecting model size
Tool tip of glb meshes says 3ds instead of glb
SVG offset lost upon viewing
Instant crash if i clear value of a geometry rotation's axis and switch to another axis
New Geometry in Paste Mode is missing scrollbar
Additional measurements of a emitter are exported with physical = 0
Message is displayed that a top level geometry is not referenced even if it is referenced to by a geometry reference.
Fix crash on summary click after duplicating DMX Mode with virtual dimmer with attribute relations
After creating a Duplicated DMX Mode with virtual dimmer, you cannot delete attribute relations in the duplicated mode
Revision time is one hour back when saving GDTF
History of revisions is lost if I consecutively work on the same file
Builder freezing with specific file
The builder should respect the timeout of the cookies and prompt the user a login popup once the cookie expired
Fixing re login error
Adding seed verifying request for relogin modal
Missing attribute while copy/paste DMX channel in dev. version
Fixing do not upload to the Share checkbox lost
Fix crash copy, paste dmx channel, then delete previous channel and go to summary
The GDTF Share button in the builder editing always points to the live share
Templates miss icon after cookie expires
When i open a file which has white emitter linked to a beam geometry, the builder doesn't show it
If DMX Mode is missing link to a Geometry, Builder shows an error which cannot be found
Add option to allow DMX count to continue from previous DMX Break range in the DMX Mode overview screen
Fix can not copy and paste wheelslot with no filter
Copy/paste mode lost attribute issue. Attributes that did not exist in the fixture before pasting are lost during saving.
Use Parent Physical Warning shows even in legitimate usage cases